Blog bopping has brought more ideas
edit, ok, just for Lorraine, how about if I say I've been bopping around the internet looking at knitting blogs? Does that work ;)
How about an informal vote:
Which of the next 4 cotton cardis are your preference? I like them all, and am really in the mood to start something cotton. Sorry, but it is just too freaking hot here to knit with wool. Can't even handle it.

choose:

number 1

(the Red),

Number 2

(the Orange),

number 3

(the ice cream cone), or

number 4

, (the lilac)

click on the pic to link to the pattern/designers website
or Tangerine Twist that is up at the current Knitty.com (click on the pic to get to the pattern)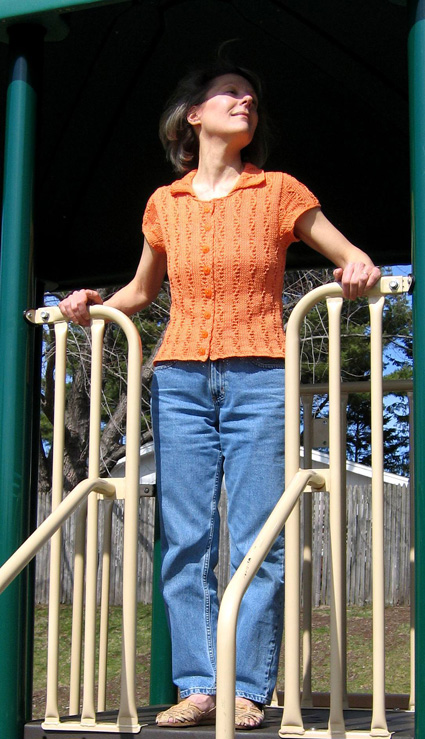 or there are these two from Rowan that have been in my queue for quite some time
BTW, if you haven't seen it yet;
Jae
has finished her design for the palawan peacock shawl. It's awesome. And I get to see it in person in August. ;)
And a post-script:
The pattern Fifi that I referenced last post, The really interesting cabled pullover, IF you like it yourself, and IF you think you want to knit it...better find the pattern NOW.
Sexy Knitters Club is voting right now on the next design they want to knit, and Fifi is so far the front runner, and unless some big upset happens it will win. Since this pattern is only avail from brick and mortar stores, and of the stores I looked at websites for this morning, only one had it in stock (Jimmy Beans Wool and their shipping is $4 for a $6.50 pattern), it is going to be one rare bird. That is, unless the powers that be over at SKC are able to make arrangements for the pattern to become avail online as a download - they have quite a bit of purchasing power, so who knows. If it remains a pattern that you must buy a print copy of though, there are going to be quite a few who're unhappy over there.
I called several stores this AM from the list of retailers that stock French Girl patterns, and finally found a store that had the pattern in stock, in Chicago. I bought the pattern they had.
Anyway, moral is, if you want it, better buy it now.
lagniappe
;
have you seen/heard
this
?