my collection of blues:
silk print crepe de chine (which is destined to be lining since I've had it so long, and stored it improperly for several years so that it has fade/fold lines on it),a poly print blouse weight,
Irridescent silk taffeta,
acetate/nylon blend (tagged from Lieters fabrics, purchased in 1989, made in Italy),
wool flannel plaid (unbalanced plaid, I've been racking my brain for months trying to figure out what to do with this piece),
a dress length of a wool crepe.,
silk/wool blend pant weight from Michaels purchased last fall (it's in the center composite photo but not in the detail surround photos - oops,
a very drapey rayon twill
Thanks to Carolyn, I did some google searching and came across more about this latest Announcement re

to quote an article on the Photoshop Blog:

(click on the title to be taken to the article)
Pantone Color Of The Year 2008 - PANTONE 18-3943 Blue Iris
December 11, 2007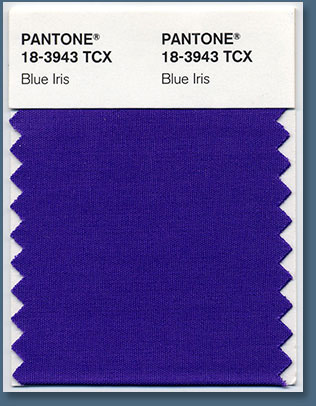 Pantone
has selected PANTONE 18-3943 Blue Iris, a beautifully balanced blue-purple, as the color of the year for 2008. Combining the stable and calming aspects of blue with the mystical and spiritual qualities of purple, Blue Iris satisfies the need for reassurance in a complex world, while adding a hint of mystery and excitement.
"From a color forecasting perspective, we have chosen PANTONE 18-3943 Blue Iris as the color of the year, as it best represents color direction in 2008 for fashion, cosmetics and home products," explains Leatrice Eiseman, executive director of the Pantone Color Institute.
"As a reflection of the times, Blue Iris brings together the dependable aspect of blue, underscored by a strong, soul-searching purple cast. Emotionally, it is anchoring and meditative with a touch of magic. Look for it artfully combined with deeper plums, red-browns, yellow-greens, grapes and grays."
Me, I find this to be
Great News
.
Because I follow color trends? No
Because I think this ranks up there with Important Issues of the Day? No
But because I Have a lot of this color blue in my fabric stash. A LOT. It's the only shade of blue I'm ever really attracted to. And over the course of the years that I've been acquiring fabric, I've collected many various fabrics in this particular shade.
And...since 2008 is to be the year of Sew From the Stash - (reminder to self: need to make an icon for that and start a club), it's really nice to know that I'll be trendy.
I'm soooo trendy don't you know.
psst: do you think Hilary's been listening?

More on Color
Kristi, who also goes by the moniker
"A Fiber Fool"
is doing a series on color. Designing with color, wearing color, combining colors.
This is something that my knitting AND my sewing friends might find interesting.
Whether it's choosing colors for your SWAP, or choosing colors for your next fair isle project (or mitten project, I think maybe I'm inspiring someone somewhere to knit some mittens), this is a good exercise.
From her website:
perhaps you would like to fill out a meme on color – either at your own blog and link back to this post or in the comments… Just cut and paste and answer and spread the word!
1. What is your current favorite color? red, but I love colors, lots of colors
2. Had your favorite color changed over the years? not really
3. Is your current favorite color one that is currently trendy? (Do you see it in the fashion rags or on the clothes rack or in the linen aisle right now? How about 5 years ago?) I don't think it's "trendy" right now, but there is always some version of red in fashion.
4. What is your favorite color combination? Red black and white, turquoise blue and purple, green and midnight blue
5. Is that combination a popular one? (Is it use in prints you see in the stores and catalogs and magazines now? How about 5 years ago?) the black/white/red is a perennial. Blue and purple might be a tad trendy - I must have my head in the sand, because I can't think of what's "in" right now, in terms of color.
6. What is your favorite way of using color in your knitting? (Are you a stranded knitter? Do you prefer simple stripes? Do you prefer just accents at the hems/collars?) I like damask looks, tweeds, all-over patterning.
7. What colors look good on you? deep saturated colors/ reds/purples/midnight blues/
8. What colors look bad on you? Yellows/golds/rust/yellow/browns
9. Do you wear colors that don't look good on you just because you like them? Sometimes
10. What is your favorite neutral color? black/white/ivory/tan/brown/gray – if brown or gray do you prefer cool or warm versions of those or does it matter? And, how dark? Black/white and cool greys, but as I age I'm having to be more careful of the black.
11. Is there a sweater pattern that uses more than one color that you'd like to make, but you wish to change the colors from what is published? If yes, which one? What do you not like about the published colors? not right now.

The answers to these questions should prove useful to you as I work my way through this color series.