Yesterday was fitting day at my sisters. I rec'd several phone calls about where to place pins and how to mark something, but overall, I'm in the dark about how it went and what works and what she likes and what she's not liking.
What I do know - the gathered front tank top from Vogue 2898 is still in need of adjustments. The black lace version that I sent down is coming back for adjustments.
The armscye on that sucker is HUGE. Ugly huge. OTH, the pattern alteration I made for full bust is excellent in front. The back needs some work. There is a lot of extra fabric in the back. This is the same problem NancyWin (encue creations) is having - too much fabric in the back.
And I've finished the muslins for the jackets, and the pants. They'll get mailed tomorrow.
Meanwhile, today I need to make a curtain for my sons apt in Davenport IA. I promised it to him last week. Then...I'm doing something FUN for me.
Quick easy, instant gratification kind of fun sewing.
Two weeks from yesterday dh and I are getting on a plane heading to St Thomas where we're picking up a boat and we're going sailing. We have one night in Charlotte Amalie, where I'll def want a sundress, then I'm as comfortable in sundresses visiting islands as anything else.
I feel like yellow. Sunny, Happy Yellow
so I went stash diving this morning.
The stripe from Gorgeous Fabrics will be a top. The grey print jersey that
Mardel
just made a top out of is going to be a dress, the other, a top - both from EmmaOneSock. I had thought to use them together in the same dress, but the yellows are very very different.
Paisley turquoise and yellow onionskin from EOS for a top, and the Rayon Jersey from Lucy's Fabrics for a dress.
Embroidered, embellished cotton batiste from EOS last year is now avail at Fabric Mart. I'm thinking the dress from
Vogue 2966
2 pieces of linen from deep in the stash, origin not remembered. The Yellow checked linen will probably end up as some sort of jacket/top to throw over the sundresses.
and another piece of yellow linen that will be shorts.
Right now I'm debating between the new Simplicity pattern from the Threads collection,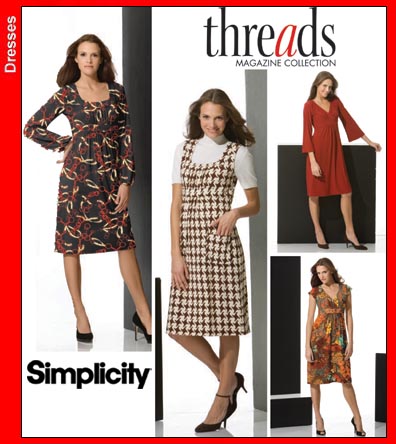 and the old standby that I love, the Maggie London dress that I did in green and wore to death last summer. (top pic on my PR widget on the sidebar right now) What I like about the Maggie London is, it defines a waist that I'm rapidly losing. But I like the sleeveless version of the Simplicity also. I need to make a decision while I'm working on the curtain.
Input welcome.