The Knitting Corner
Someone who is near and dear to me is knitting the
Honeycomb Vest
from Knitty.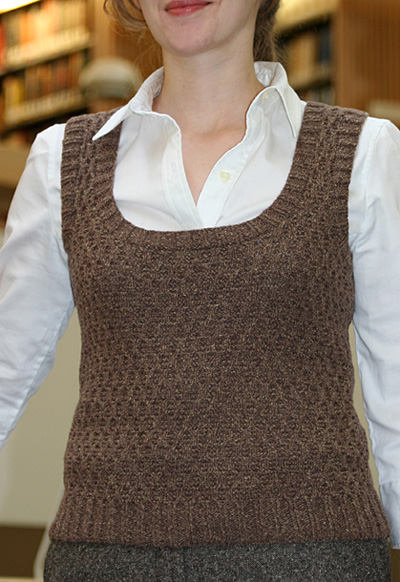 After getting a long ways into the project, it's been decided to add sleeves. I offered to write a pattern for a sleeve.
It'll be easy once I get my schematic down. The question I have, and this is really a construction/pattern drafting question and not a knitting question, so all my sewing friends, this question is for you. Must I redraw the armscye? I think so.
My inclination is to rewrite the pattern for the top of the bodice to add shoulder width, in addition to writing a pattern for a sleeve. I'm thinking that the armscye is cut in so far for the vest that it'll be impossible to get a nice sleeve set in. Oh, and I'll need to eliminated the ribbing and add pattern stitches anyway at the armscye.
Below is the schematic.
Confirm my thoughts? I've drawn the line I think I need to have in red.
edit to ask

:
This is being knit in the smallest size. The wearer is a size 0-2 RTW. The depth on the armscye as written is 7.75". Since the consensus seems to be that the armscye needs to come up, anyone have any ideas about how deep that armscye should be? Sommerset? Jae? Someone who's petite or sews for that size typically?


The Sewing Studio
Meanwhile, I've pulled some real bonehead moves in the sewing dept lately.
One is failing to stop by either Joanns or Hancock last weekend and pick up a Simplicity pattern.
Awhile back someone posted some Anthropologie items on Stitchers Guild, among them this top
Photo of Anthropologie Top, no longer avail on their website
I heart this top. Mostly the fabric, and the sleeves. I don't so much love the actual fabric as the idea of it. The color at the hem bleeding into the monochrome of the top. And the texture. And I love the sleeves. Right after I saw it, I began thinking about how to duplicate that sleeve. The next week I saw the Simplicity pattern offerings, and there was a blouse, with this sleeve. Or something close enough to an approximation of it. Cool! Look up when Simplicity will be having a sale. Can't make it.... Look for the next one. Even write it on the calendar. Then forget and don't even look at the calendar. Dang!
The blouse:
Simplicity 2501
In any case, That top, the design elements, have stayed with me. I think I have to keep thinking on it, and see where I end up with it.
Tomorrow: The incident with the plaid. Just plain dumb move on my part.